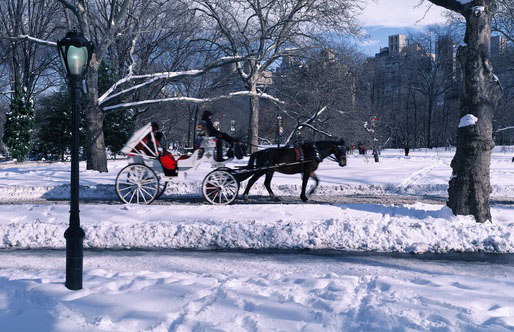 January 26, 2022
If you and your partner are adventurous travel bugs, a romantic getaway is one of the best gifts you can share with them on Valentine's Day.
As countries lift travel bans, it' may be time to pack your bags and head out to incredible destinations perfect for a Valentine's Day vacation. Upgrade your gift from the standard box of chocolates and bouquet of roses to something far more memorable and exciting.
Whether you enjoy a stroll in the city or a romantic picnic at the beach, there are many itineraries for you to choose from. In this article, we've listed some of the top romantic destinations and activities for Valentine's Day in 2022.
New York, USA
New York's romantic ambiance spans all seasons, but it is particularly enticing during winter while you watch the snowfall and cuddle up with your partner.
Cozy up under a blanket and have a fairytale evening with a horse-drawn carriage ride through Central Park. Take in the scenery in a leisurely fashion and just enjoy each other's company. If you prefer strolling, head to the Riverside Park on the Upper West Side and take in the sights of the iconic set of "You've Got Mail".
If you've got some extra time, drive to Niagara Falls and bask in the glory of natural beauty and wonder. You can opt for a winery tour or enjoy dinner while cruising the falls with the Niagara River Cruises.
San Francisco, California, USA
San Francisco is also known as one of America's most romantic cities. Stroll together across the Golden Gate Bridge and take in the view of the city skyline and Alcatraz Island.
Couples with an active lifestyle can head to Lake Tahoe for some skiing or to Tuolumne County for more winter fun. Go ice-skating, snow tubing, and more. If you prefer something artsy, visit some of the city's famous museums like the Asian Art Museum, California's Historical Society, or de Young Museum.
The Isle of Skye, Scotland
The Isle of Skye gives a new perspective to road trips with some of the most dramatic and coastal sceneries along the road bridge. Visit the Dunvegan Castle Gardens and have a romantic stroll through the hidden oasis that's laid out with some of the most exotic flowers and waterfalls. In February, the garden is known to be covered in snowdrops, giving it a frosty, calm ambiance.
To tap into the local folklore, visit the Fairy Glen that's said to have been created by fairies who still live there. You can even spend the night in Fairy Glen Cottage and wake up to a traditional Scottish breakfast. Take a boat ride to Loch Coruisk where you might be rewarded with sights of seals and dolphins on the way. Once you're there, take a stroll around the rustic gardens and traditional cottages.
Paris, France
Dubbed the "City of Love", Paris is undeniably one of the most romantic destinations. The city is filled with charming cafes, stunning architecture, and discreet secret gardens that make it the romantic capital of the world. Start your holiday with a Bateaux Mouches ride along the Seine.
Take a short scenic drive outside the city to Palace de Versailles, home of Marie Antoinette. Make a day of it by wandering through the palace walls and exploring the Hall of Mirrors, King's seven-room, and the Grand Apartment.
Tuscany, Italy
For a romantic escape into the countryside, Tuscany is the place to be. Go on a hot balloon excursion and admire the vineyards and olive groves across the Chianti Area. End the ride with a typical Tuscan breakfast of wine and toast.
Stroll around the love paths of Pienza, a little village with Renaissance origins, and sample some Pecorino cheese. Alternatively, you can rent a car and drive through the ancient Chiantigiana Road that connects Florence to Siena. Don't forget to stop for pictures as you marvel at the wide hills and ancient castles.
Bali, Indonesia
Escape winter and opt for lazy afternoons by the beach by heading to Bali, Indonesia. This is a popular beach getaway that offers island romance with its golden beaches and private villas. Enjoy a couple's spa with a myriad of spa activities to choose from. Whether you prefer hot stones or flower baths, Bali has a spa day for you.
After your relaxing day, why not recreate picturesque film scenes with a romantic 2-hour horseback ride on a beach overlooking the sunset? Feel the ocean breeze as you stroll past villages and impressive temples. End the day with a romantic dinner filled with fresh seafood and cocktails on Jimbaran Beach.
Kyoto, Japan
Skip the hustle and bustle of Tokyo, and head to Kyoto instead for some history and charm. The former Japanese capital has culture at every corner with old townhouses, family-owned restaurants, and cobblestoned streets. Be part of that culture by renting traditional Japanese costumes and visiting famous temples in them.
If you and your partner love the outdoors, take a ride on the Sagano Romantic Train. The 25-minute ride runs along the Hozugawa River and provides some of the most scenic views of green hills and waterfalls. End the day with a romantic dinner by the Kamo River that's filled with restaurants, bars, and cafes.
Santorini, Greece
Santorini has some of the most jaw-droppingly scenic views in the world. With turquoise sea views and blue-domed churches, it's difficult not to feel the warmth of romance just filling the air. Take a stroll around Oia, the northern part of Santorini, and take in the expansive views of the volcano and ocean.
Taste some of the best wines Greece has to offer and have some freshly grilled seafood while overlooking the volcano during sunset. If you're looking for more relaxation, a short boat ride will take you to the nearby hot springs where you can take a couple's mud baths by the outskirts of the volcano.
Plan Your Next Valentine's Day Getaway
Mariner Finance helps make your dream Valentine's Day getaway a reality by matching you with a personal loan that meets your immediate needs. We have been serving communities since 1927 and understand that everyone's need is different. Our experienced team members— located in over 480 branches— are ready to assist you with your personal loan.
Need a personal loan for a dream vacation this Valentine's Day? Apply now and let us help you make that dream a reality.  
Blog posts are for informational purposes only.
†We offer personal loans from $1,000 to $25,000, with loans terms from 12 to 60 months. Minimum and maximum amounts dependent on an applicant's state of residence and the underwriting of the loan. Loans between $1,500 and $15,000 may be funded online. Loans greater than $15,000 or less than $1,500 are funded through our branch network. Specific interest rates and fees are determined as permitted under applicable state law and depend upon loan amount, term, and the applicant's ability to meet our credit criteria, including, but not limited to, credit history, income, debt payment obligations, and other factors such as availability of collateral. Not all rates and loan amounts are available in all states. Additional fees may apply to some loan offers; some state required and/or permitted fees may be treated as prepaid finance charges. Any such charges shall be in addition to the loan amount requested and/or approved and shall be fully disclosed to the applicant on his/her loan agreement. Not all applicants will qualify for the lowest rates or larger loan amounts, which may require a first lien on a motor vehicle not more than ten years old titled in the applicant's name with valid insurance. Our loan by phone and online closing process requires a compatible mobile or computer device on which you can access your email and electronic documents. Not all loan types are eligible for loan by phone or online loan closing.
To help the government fight the funding of terrorism and money laundering activities, Federal law requires all financial institutions to obtain, verify, and record information that identifies each person who opens an account. As a result, under our customer identification program, we must ask for your name, street address, mailing address, date of birth, and other information that will allow us to identify you. We may also ask to see your driver's license or other identifying documents.
*The process uses a "soft" credit inquiry to determine whether a loan offer is available, which does not impact your credit score. If you continue with the application process online and accept a loan offer, or are referred to a branch and continue your application there, we will pull your credit report and credit score again using a "hard" credit inquiry. This "hard" credit inquiry may impact your credit score.