What is debt consolidation?
Debt consolidation loans are a type of debt refinancing that allows consumers to pay off various unsecured debts by combining them into one loan with a fixed monthly payment. Most consumers consider debt consolidation for unsecured debts which yield a high interest rate, such as credit cards, medical bills, high-interest loans and other various bills.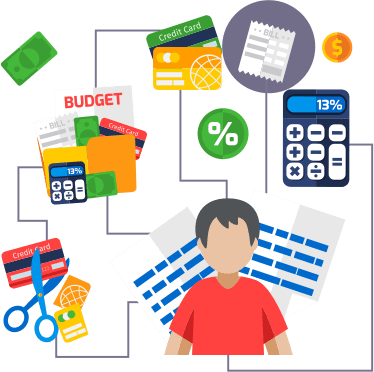 Secured Loans†
You may qualify for a lower rate and/or a higher amount with an auto secured loan for debt consolidation. If you're interested, see below for more information or reach out to your local branch if you have questions.
A secured loan means you are pledging something of value as collateral to ensure that your loan will be repaid according to the agreed terms and conditions. Assets such as cars can be used as collateral, and, in some instances, the lender can place a lien on the asset, which will remain until the loan has been paid in full, including interest and all applicable fees.
It's important to remember that if you are unable to repay a secured loan, the lender may be able to sell the pledged collateral to pay off all or part of the loan.
What are the benefits
of consolidating debts?
There are many benefits of getting a loan to manage your debt. Here is a list of some common benefits of debt consolidation loans:
Why choose
Mariner Finance?
We recognize that people are short on time, so we try to respond with answers quickly. We also realize everyone has their own experiences and circumstances, so we take the time to get to know the person behind every personal loan, and we try to provide resources that help borrowers make more informed decisions.  Simple, but true. 
How has Mariner come through for you?
Unexpected Expenses Vacation Loans Debt Consolidation Loans Home Improvements Loans Wedding Loans
Car Refinancing Loans Finance Car Loans Finance Used Car Loan
Mortgage Loans Home Refinance FHA Loans and VA Loans Meet our Loan Officers
How to apply for a Personal Loan FAQ Blog Mariner States
Why Us Branch Locator Customer Support Careers
Community Guidelines Privacy Statement Terms of Use Licensing and Disclosure Texting Terms of Use Website Accessibility
We offer personal loans from $1,000 to $25,000, with minimum and maximum amounts dependent on an applicant's state of residence and the underwriting of the loan. Loans between $1,500 and $15,000 may be funded online. Loans greater than $15,000 or less than $1,500 are funded through our branch network. Specific interest rates and fees are determined as permitted under applicable state law and depend upon loan amount, term, and the applicant's ability to meet our credit criteria, including, but not limited to, credit history, income, debt payment obligations, and other factors such as availability of collateral. Not all rates and loan amounts are available in all states. Not all applicants will qualify for the lowest rates or larger loan amounts, which may require a first lien on a motor vehicle not more than ten years old titled in the applicant's name with valid insurance.
To help the government fight the funding of terrorism and money laundering activities, Federal law requires all financial institutions to obtain, verify, and record information that identifies each person who opens an account. As a result, under our customer identification program, we must ask for your name, street address, mailing address, date of birth, and other information that will allow us to identify you. We may also ask to see your driver's license or other identifying documents.
*The process uses a "soft" credit inquiry to determine whether a loan offer is available, which does not impact your credit score. If you continue with the application process online and accept a loan offer, or are referred to a branch and continue your application there, we will pull your credit report and credit score again using a "hard" credit inquiry. This "hard" credit inquiry may impact your credit score.
**15 Day Satisfaction Guarantee: If, for any reason, you are dissatisfied with your loan and repay it in full within 15 days we will waive all finance charges with no penalties. Your repayment amount must be in the form of cash or certified funds.
California Residents: Loans made or arranged pursuant to a California Financing Law license.
Mariner Finance, LLC, NMLS No. 166564 (www.nmlsconsumeraccess.com) 8211 Town Center Drive, Nottingham, MD 21236. Telephone Number 877-310-2373.