It's that time of the year again, when the swimsuits and patio furniture displays are being replaced by back-to-school supplies! Whether you have kids getting excited for school in the fall, a college student ready to leave the nest, or you're attending school yourself, back-to-school expenses add up fast. Studies have shown that a family with school aged children will spend over $600 on school supplies and related purchases; with the biggest amount going toward clothes. From supplies to clothing, we've collected some tried-and-true tips for back-to-school savings.
School Supplies
Collect What You Already Have
Chances are, you've already got most of the school supplies you need leftover from last year! Dig through your child's backpack for extra pencils, notebooks, or binders that are still in good condition. You might be surprised with how many supplies you'll be able to reuse! Want to make it fun for the kids, too? Turn it into a scavenger hunt by giving them a list of all the supplies you need and see how many they can find!
Buy Multiples
If you know your child will plow through that pack of crayons, go ahead and pick up a few more during your school supply shopping trips. Take advantage of "buy one, get one" deals whenever you see them to avoid having to make a school supply shopping trip in December.
Wait to Buy Nonessentials
While stores start rolling out the back-to-school displays around the first of July, once school is in session those supplies go on major clearance. Stock up on necessary supplies you don't already have and go back to the store a few weeks after school starts to finish up. Keep in mind that there may not be the biggest variety this late in the shopping season, though!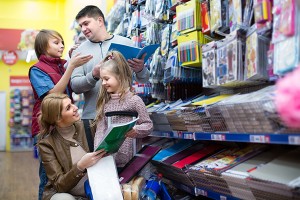 Stock Up for Next Year
Use those end of season clearances to stock up on supplies for next school year! Everyone always needs pencils, paper, and notebooks, so grab those when they're at their lowest prices after school starts and be extra prepared for next school season.
Buy Quality When It Matters
Yes, those cheaper $20 backpacks are tempting, but most of them won't hold up for longer than a few months. Backpacks and lunch boxes are great items to make long term investments on. Also, try to avoid licensed character merchandise, as they're usually priced much higher than non-licensed items. That Disney lunch box may be what your child wants more than anything today, but who knows how popular it will be in a few months?
Take Advantage of Sales Tax Holidays
Many states offer weekend tax-free holidays on school supplies and clothing, as well as some technology purchases. These holidays are a great opportunity to save on every purchase.  Check to see if your state is participating in a tax-free holiday!
Follow Stores on Social Media
Many stores will post sales and discounts onto their social media accounts that you may not be aware of if you aren't following them. Make sure you take advantage of these sales by following your favorite stores on social media sites like Facebook, or sign up to receive emails from them notifying you of upcoming promotions.
School Clothing
Take Inventory
Back-to-school is the perfect time to go through your child's closets to see what still fits. Spend a day devoted to sorting through clothes. Put aside anything that doesn't fit to pass on to younger siblings or donate, and start making a list of what types of clothing needs to be purchased. Shopping with a clear idea of how much you or your child really needs will help keep you on track and stay within your budget.
Participate in a Clothing Swap
If you don't already have hand-me-downs from older siblings, organizing a clothing swap with friends, classmates, or neighbors is a great idea. Have everyone bring the clothing items their child has outgrown and trade away!
Set a Budget and Pay with Cash
The easiest way to stick to your budget is to only bring a set amount of cash with you. This way, once your budgeted amount is spent, you aren't tempted to make another purchase using a card. This is a great way to start teaching your kids how to be financially responsible.
Don't Buy All at Once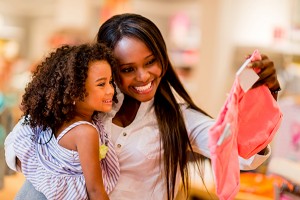 It may be fun to spend a day out shopping at the mall or various stores, but this is a slippery slope. Break up your clothing purchases between a few different days so you have time to think about what you need to buy and what you've already bought to make the most practical, budget-friendly decisions.
Shop at Thrift or Consignment Stores
These second-hand stores offer great deals on lightly worn clothing items! Stores like Plato's Closet sell name brand, lightly used clothes and are a great place to shop on a budget if you have teenagers.
Want even more back-to-school savings tips? Check out Back-to-School: Money-Saving Tips for more tips on saving for back-to-school expenses that come with senior year in high school. At Mariner Finance, we know that back-to-school expenses can be financially stressful. Call or stop by your local branch today or apply online to see how we can help!
The information provided in this article does not constitute financial advice and is provided for educational purposes only without any express or implied warranty of any kind. This article is not intended as legal, tax, investment, or any other advice, and Mariner Finance does not offer credit repair services. Consider talking with an appropriate qualified professional for specific advice. Blog posts are for informational purposes only.