If you have ever been a victim of identity theft, you know how devastating the effects can be. The best way to protect yourself from identity theft is through proactive prevention. Learn how to best protect yourself from identity theft here. However, if you have been affected by identity theft, follow these steps to quickly resolve the issue: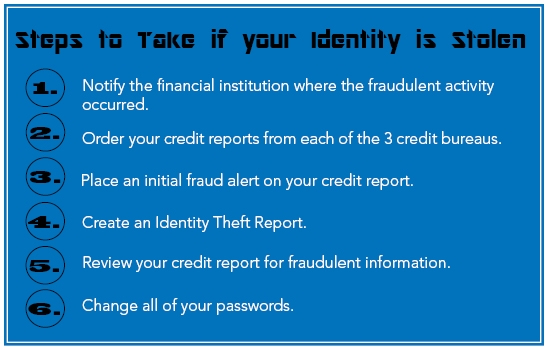 1.)    Immediately notify the financial institution where the fraudulent activity occurred. This will allow them to freeze your account and stop any more fraudulent transactions from occurring.
2.)    Place an initial fraud alert on your credit report- Once you suspect someone has stolen your personal information, call one of the three credit bureaus (Equifax, Experian, TransUnion) and tell them to put an initial fraud alert on your credit report. An initial fraud alert will make it harder for an identity thief to open more accounts in your name. This is because a business must then verify your identity before it will issue credit in your name. The initial credit alert will stay on your report for 90 days, and after this period it can be renewed if needed.
3.)    Order your credit reports-Once you have placed an initial fraud report, you are entitled to a free credit report from each of the three credit reporting companies mentioned above. Simply contact each company, explain that you have placed an initial fraud alert, and order your free credit report.  Make sure to ask them to only show the last four digits of your SSN on the report to protect your identity.
4.)    Create an Identity Theft Report-An Identity Theft Report helps you deal with credit reporting companies, debt collectors, and businesses that opened accounts in your name. According to the Federal Trade Commission, an Identity Theft Report will allow you to:
Get fraudulent information removed from your credit report
Stop a company from collecting debts that result from identity theft, or from selling the debt to another company for collection
Place an extended fraud alert on your credit report
Get information from companies about accounts the identity thief opened or misused
You can create your Identity Theft Report with these three easy steps:
Submit a complaint about the theft to the FTC by going to www.ftc.gov/complaint. Make sure to print out a copy of the report and use it as an Identity Theft Affidavit.
File a police report about the identity theft by going to your local police department or the police department where the theft occurred. Once there, obtain a copy of the police report or report number. Bring your FTC Identity Theft Affidavit with you when you file a police report.
Attach your FTC Identity Theft Affidavit to your police report to make your Identity Theft Report.
5.)    Review your credit report- Check all key information including your name, address, SSN, and employers in your credit report. Dispute any errors you find with the three credit reporting companies mentioned in step number 2 and the fraud department of each business where the fraudulent transaction occurred.
6.)    Change all your account passwords-If the identity theft involves hacking into one of your online or banking accounts change those passwords, and change your debit card pin if the identity theft involves an ATM or your debit card.
Source: Federal Trade Commission 
This material was prepared for general distribution. Although all blog posts are intended to be accurate, the information and third-party links provided in the Mariner Finance's blog are intended for general knowledge and educational purposes only without any warranties, implied or express, of any kind. The posts do not constitute investment, financial or other advice. Authors may or may not be licensed financial professionals; for specific advice, seek the input of a licensed and trained financial expert. Mariner Finance's blog entries may also be viewed at www.pioneercredit.net and www.personalfinancecompany.com.
get personal finance tips,
and seasonal offers.
Sign up for the Mariner Finance newsletter.