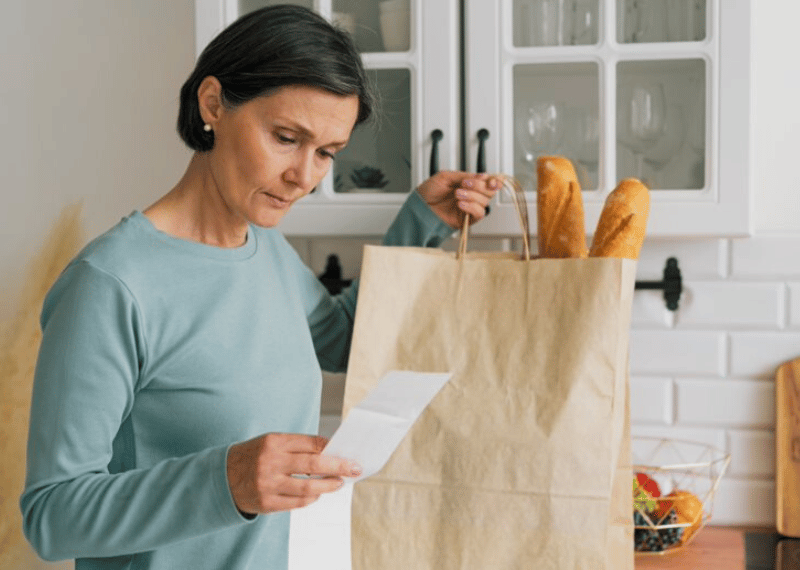 Inflation—a rise in prices that reduces consumers' purchasing power—is at its highest rate in decades in the U.S., contributing to higher costs on consumer goods and borrowing. From credit card debts and loan payments, to utilities and rent, every payment you make is likely on the rise. So how do you manage the inflation? Start with a new budget and then economize wherever you can. There are ways to offset rising prices within your budget, but you need to be informed.
1. Check Your Current Spending
Build a better budget by looking at what you earn and spend, and where you might find places to cut back on expenses. Are there cable channels you never watch? You may want to opt for a basic subscription or entirely cut the cord. Gym membership you never use? Look for an alternate workout routine. You may want to make your own coffee at home, bring a bagged lunch to work, and reduce the number of times you dine out. If you take a hard look at your expenses over the last few months, you'll have a better handle on where you spend and where you might be able to save.
2. Save Money on Groceries
Coupon clipping may have gone digital, but it's still a savvy way to trim your grocery budget. Look at weekly circulars and plan your menu based on sale items. When you see a great deal on meat or frozen food, consider buying it on sale and freezing it for future use.
3. Reduce Your Gas Bill
To save on gas, you may be able to reduce your mileage by combining trips. Make sure your tires are properly inflated and don't keep extra weight in your trunk. You may want to use an app like GasBuddy or Waze to search for the lowest gas prices by location. Or is a shopper's club membership right for you? Shopper's clubs such as Sam's, Costco, and BJ's sell their own gas at lower prices than brand-name stations.
4. Pay Down Credit Cards
As interest rates continue to rise, it is more important to keep credit card balances low. You may consider using the snowball method where you pay off one credit card, and then add that amount to your payments on another card until that one is paid off too. You might also find an introductory zero interest credit card where you can transfer a balance from a high-interest card and have 12 to 18 months to pay it off.
5. Control Your Thermostats
As utility prices rise, make sure you don't blast the heat or air conditioning when you are not home. Consider installing a programmable thermostat so you can control the temperature. You can also lower or raise the temperature when you sleep. Most water heaters also have their own thermostat. Consider lowering your water heater thermostat to 120 degrees Fahrenheit to save energy and money.
6. Cut Back on Services
From lawn mowing and snow shoveling, to manicures and pedicures, there are plenty of services that you may pay for but decide you don't need. Consider the services you could do without—even if only for a little while—and cancel them.
7. Shop at Consignment Stores
The resale industry is expected to top $50 billion dollars by 2023 so if you've ever thought about buying at a consignment shop, you're hardly alone. Shopping resale saves you money, while being environmentally friendly. Many stores tout high-fashion designs at a fraction of the cost you'd pay for new.
8. Hold Onto Your Current Car
Due to chip shortages, shipping delays, and pent-up demand, car prices have skyrocketed. Even though supplies are beginning to catch up, interest rates on car loans have increased recently. All that is to say, if you have a dependable car, you may want to hold onto it. You could come out ahead if you keep a well-running car for as long as possible.
9. Take an Affordable Vacation
During the pandemic, many people enjoyed staycations, touring local attractions and finding new things to do in old, familiar places. Give it a try! If you do intend to travel out of town by air, you may want to book your flight far in advance of your travel date, and try comparing airfare rates using online tools such as Hopper, Skyscanner or Google Flights.
10. Increase Your Earnings
With unemployment rates near record lows, there are likely part-times jobs out there if you're looking for additional income. You may find work at a local retail outlet or restaurant. Or do side jobs like babysitting gigs. If you are good at crafts, you can sell them online or sell unwanted items in online marketplaces. Every penny you earn can be added to your budget.
During this high-inflation era, do you need to explore personal loans? Contact Mariner Finance today to talk with a representative. We work to find a loan solution customized for you!
The information provided in this article does not constitute financial advice and is provided for educational purposes only without any express or implied warranty of any kind. This article is not intended as legal, tax, investment, or any other advice, and Mariner Finance does not offer credit repair services. Consider talking with an appropriate qualified professional for specific advice. Blog posts are for informational purposes only.