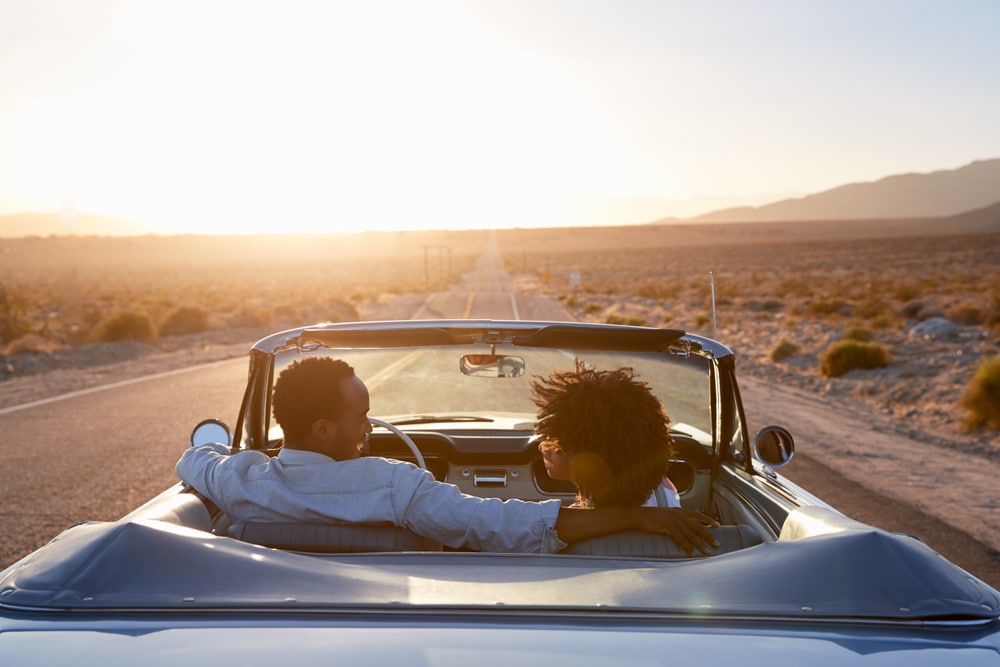 July 28, 2021
Thinking of going on a road trip soon? Superb idea! There's an undeniable lure about road trips  To make yours even more memorable, we've compiled a detailed list of handy tips for planning a road trip.
How to Plan a Cross Country Road Trip
Proper planning can be the secret to a successful and memorable road trip. From identifying your destination to what you should bring, below we explore tips for planning a perfect road trip:
1. Select a Route
Whether you'll be going alone or with friends, selecting your route is the first step to a fun and memorable road trip. Your route helps you figure out important aspects about the trip, such as how long you'll have to drive every day and who will be on the wheel at particular times (if going with friends).
To select the ideal route, you'll need to pick out a destination first — once you're settled on that, review and compare different routes to identify the best one.  You can compare road trip routes based on:
Mileage: Consider how long a route is to your destination against other available options
How much time you have: If you only have a weekend, you may want to choose the shortest route possible. But if time is no issue, you can choose a longer, more scenic road trip route.
Attractions: You can consider searching for new sights and experiences you'd otherwise miss if you were to fly or take a train. So, even if you're taking a short route, try to incorporate scenic stops.
Bonus route selection tip: Use online maps to estimate and compare the driving time for at least four routes to your destination. Consider adding 25% more time to the estimated timeline to create room for traffic, planned stops, and other unexpected incidences.
2. Check Travel Requirements
Even though COVID-19 restrictions are easing globally, the pandemic changed how our society works. For instance, some states currently require a COVID-19 vaccine. So if you will be taking a cross-country road trip on route 66, check for any coronavirus-specific travel restrictions. Check for other travel restrictions and requirements, since some countries and states expect visitors to have travel insurance.
3. Create an Itinerary
A travel itinerary helps you manage your time, so you don't spend too much time on one stop and have to rush or miss other fantastic stops on your way. By planning where you'll stop, eat, and stay beforehand, you can estimate how much you'll spend and even devise ways to cut costs.
So, once you've decided on the route, create an itinerary. It doesn't have to be a detailed minute-by-minute plan of what you'll do on the road trip, but a general idea of where you'll stop, eat, and stay each day.
4. Set a Budget
With an itinerary in place, you now have a general idea of the things you'll do and see on your trip. Your next step should be setting a budget. Budgeting is an essential tip for planning a road trip, because how much you have determines how far you can go, where you can stay, and what activities you can partake in while on the road trip. By budgeting, you can also start saving for your trip early or finding ways to finance your trip, such as applying for a personal loan.
Setting a budget is even more critical if you're traveling with friends, because it helps ensure everyone is on the same budget. Create a realistic budget and make sure you include allowances for emergencies and unplanned expenses. Don't forget to set a personal budget for expenses on things like vaccinations and travel insurance.
5. Prep Your Ride
You might do everything else right, but your road trip can still be stressful if you're driving a bad car. So start by considering whether you'll be taking your personal vehicle, or a rental. If you are road tripping in your car, take it for inspection at least a week ahead of before you set out. If you are renting, start reviewing local car rental agencies and make bookings early. Don't forget to bring a road map, even if the car has GPS.
Look for a car designed for road trips – and since you'll be spending several hours cooped up in there, ensure there's plenty of space for every passenger. A convertible is an excellent option if you'll be alone or with one friend, and an SUV is ideal if a few of your friends will be tagging along.
6. Plan for Entertainment
Picking a playlist is among the important tips for planning a road trip that you should prioritize. Since you'll be driving a lot, fumbling with your phone or car TV to pick a song while driving is unsafe and hectic. Start compiling a perfect playlist once you decide on a date. Throw in a few podcasts and movies, too, and make sure you ask everyone else you'll be traveling with for input on entertainment ideas.
What to Bring on a Road Trip
Packing the right things for your road trip not only makes the trip smooth sailing, but also helps you avoid the costs of having to buy essentials on the road. That said, here's a list of what to consider bringing on a road trip:
Cooler: Bringing a cooler means you can carry food and beverages in bulk to cut on costs. It also allows you to pack healthier food options, so you don't have to snack all day.
Essential paperwork: Make sure you have your license and registration, the manual for your vehicle, and your auto insurance card.
Portable charger: If you are road tripping with a bunch of friends, bring your portable charger to avoid competing over one charging port.
Emergency supplies: Pack a first aid kit, spare tire, and emergency car kit.
Additional items: Having things like a portable car garbage can, an air mattress, slippers or a comfy change of shoes, and tissues or toilet paper on hand can help guard against a number of potential emergency situations.
Personal loans for Road Trips from Mariner Finance
Need a loan to help cover road trip expenses?  A personal loan could come in handy to cover costs.
Apply for a personal loan for road trips, from the comfort of your home.
Blog posts are for informational purposes only.
†We offer personal loans from $1,000 to $25,000, with loans terms from 12 to 60 months. Minimum and maximum amounts dependent on an applicant's state of residence and the underwriting of the loan. Loans between $1,500 and $15,000 may be funded online. Loans greater than $15,000 or less than $1,500 are funded through our branch network. Specific interest rates and fees are determined as permitted under applicable state law and depend upon loan amount, term, and the applicant's ability to meet our credit criteria, including, but not limited to, credit history, income, debt payment obligations, and other factors such as availability of collateral. Not all rates and loan amounts are available in all states. Additional fees may apply to some loan offers; some state required and/or permitted fees may be treated as prepaid finance charges. Any such charges shall be in addition to the loan amount requested and/or approved and shall be fully disclosed to the applicant on his/her loan agreement. Not all applicants will qualify for the lowest rates or larger loan amounts, which may require a first lien on a motor vehicle not more than ten years old titled in the applicant's name with valid insurance. Our loan by phone and online closing process requires a compatible mobile or computer device on which you can access your email and electronic documents. Not all loan types are eligible for loan by phone or online loan closing.
To help the government fight the funding of terrorism and money laundering activities, Federal law requires all financial institutions to obtain, verify, and record information that identifies each person who opens an account. As a result, under our customer identification program, we must ask for your name, street address, mailing address, date of birth, and other information that will allow us to identify you. We may also ask to see your driver's license or other identifying documents.
For any stated annual percentage rate ("APR"), the APR represents the cost of credit as a yearly rate and will be determined based upon an applicant's credit at the time of application, subject to state law limits. A range of APR's may be applicable, subject to state law limits and individual underwriting. Not all applicants will qualify for a lower rate. APR's are generally higher on loans not secured by a vehicle, and the lowest rates typically apply to the most creditworthy borrowers. All terms and conditions of a loan offer, including the APR, will be disclosed during the application process. As an example, with an amount financed of $5,000.00 the borrower receives $5,000.00 at an APR of 29.99% and an interest rate of 28.77% which includes a finance charge of $3,640.96. Under these terms, the borrower would make 48 monthly payments of $180.02, for a total of payments of $8,640.96. The amount financed may not be the net proceeds paid if charges other than interest are included in the loan.
*The process uses a "soft" credit inquiry to determine whether a loan offer is available, which does not impact your credit score. If you continue with the application process online and accept a loan offer, or are referred to a branch and continue your application there, we will pull your credit report and credit score again using a "hard" credit inquiry. This "hard" credit inquiry may impact your credit score.