As a motorcycle enthusiast, there's nothing worse than being on a nice ride and having to deal with a mechanical problem or break down far away from home. If you've ever experienced this, then you know what we're talking about! Luckily there are many precautions bikers can take to avoid facing these common problems on the road. While every bike is unique, the best way to prevent bike malfunctions from occurring is to regularly maintain your bike. A regular motorcycle maintenance schedule can help you overcome the following common problems:
1.) Collection of Dirt and Debris – Collection of dirt and debris in the interior of your bike is one of the most common motorcycle problems that may cause it to run poorly. Be sure to check your maintenance manual and follow detailed instructions on what to clean and how often you should clean those parts after you ride. Things like dirty spark plugs are notorious for creating situations where your bike runs poorly, or in some cases won't start.
2.) Tire Wear – Premature tire wear is usually caused by improper tire pressure when you ride. Again, consult your owner's manual and check your tire pressure before you ride.
3.) Poorly Lubricated Chains – A properly lubricated chain is absolutely essential to preventing catastrophic failure that could result in a snapped chain, or binding and locking of the drive train, which could lead to engine damage or cause you to have a major accident.
4.)Batteries – Motorcycle batteries have a relatively short life span. Best advice is to make sure you are charging your battery after each ride and consult your owner's manual for suggestions on keeping it charged. As a general rule, voltage is a good way to determine your motorcycle's battery state of charge – see the chart below.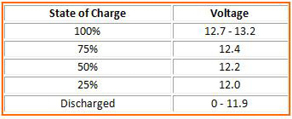 5.) Fuel System – Many motorcycles have carburetors, while others are fuel-injected. The hoses that run to and from these units can dry out, crack, or otherwise fail. To prevent this from occurring, regularly inspect them and replace them if necessary. Other problems with your fuel system could include a punctured gas tank or a dirty carburetor. Their job is to ensure the fuel system delivers fuel properly, so it is extremely important to realize and resolve these issues before you hit the road.
To prevent any of these common motorcycle problems from occurring, regularly maintain your bike and consult your owner's manual to tackle and fix any issues before they interrupt your next ride.
If you are experiencing motorcycle problems that cannot easily be fixed yourself, resulting in you needing professional assistance or needing to purchase an entirely new motorcycle, Mariner Finance is here for your financing needs! Call your local Mariner Finance branch today to learn how we can help or learn more about our personal loans today.
The information provided in this article does not constitute financial advice and is provided for educational purposes only without any express or implied warranty of any kind. This article is not intended as legal, tax, investment, or any other advice, and Mariner Finance does not offer credit repair services. Consider talking with an appropriate qualified professional for specific advice. Blog posts are for informational purposes only.