If you're not familiar with credit scores or just want to know a little bit more about VantageScore®, this article is for you.
What is VantageScore®?
Created by a joint venture between the big three credit bureaus, Equifax, Experian, and TransUnion, VantageScore® is a credit scoring system developed in 2006. [1]
Credit scores can help lenders evaluate credit reports by summarizing the credit risk into a three digit number and, when used in underwriting, can affect the terms of any credit available to a consumer.
FICO®VantageScore® combines "cutting-edge, patented, and patent-pending analytic techniques" with an ability to consistently score a larger spectrum of the population.[2]
Why was VantageScore® created?
Before VantageScore®, model credit scores like FICO® were often calculated differently. It was common to have different versions of a FICO® score, which varied slightly from each credit bureau.
The variation in score was due, in part, by credit agencies developing their own models, which created differences between the credit scores and credit bureaus even though they were using the same general scoring systems. [3]
Experian, Equifax, and Transunion saw a need for a universal scoring method with an emphasis on simplicity and consistency. With this in mind, they developed VantageScore®. [4]
VantageScore® provides features, like reason codes, to help consumers understand their credit score better, and  developed an entire website to provide consumer transparency. You can visit this site at: https://www.reasoncode.org/.
How does VantageScore work, and what can help to improve the score?
The information used to calculate your VantageScore® can be broken down into six main categories. Keep in mind that these six groups may not all carry the same weight in your score.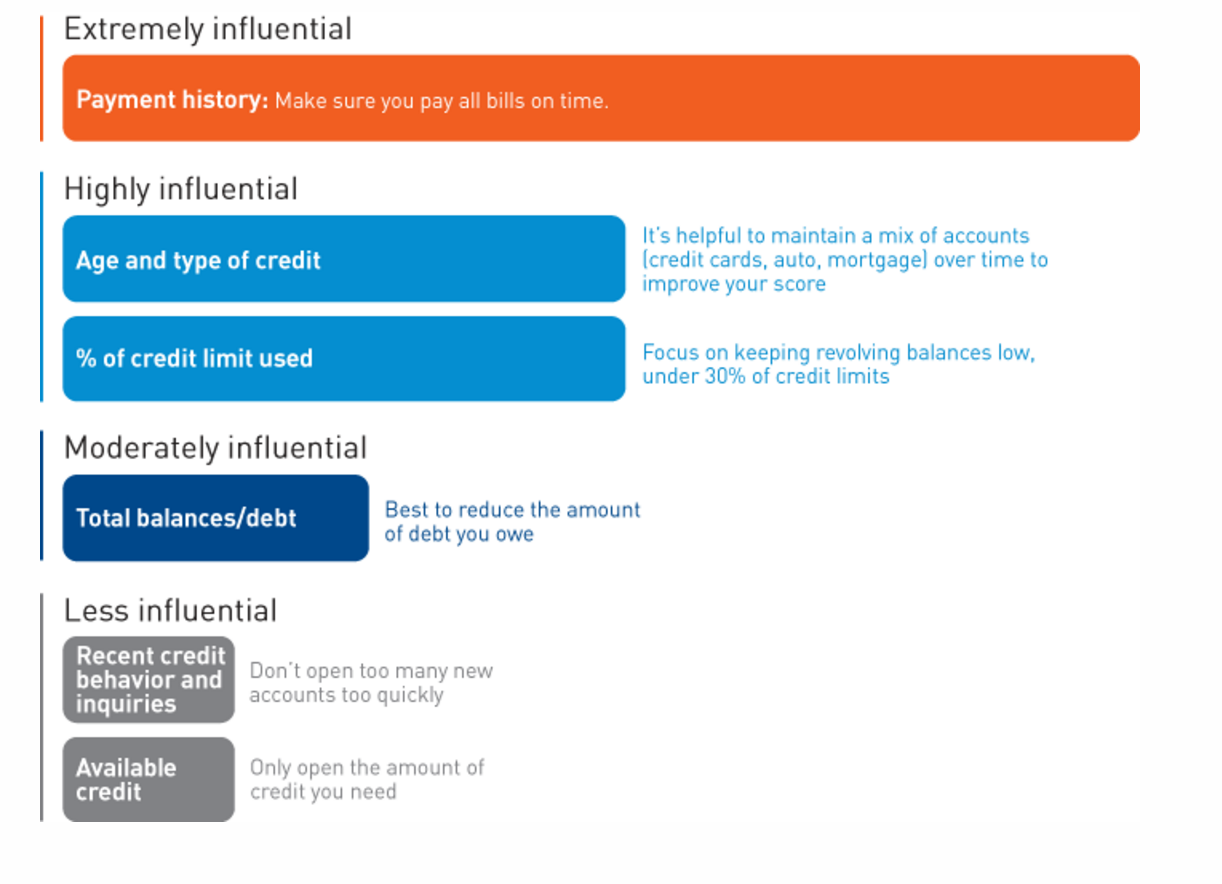 Image Credit: Vantage[i]Score
Now let's break down these factors a bit more[5]:
Payment history – This factor analyzes repayment behavior broken down into three categories- current, late, or charged-off. Paying all bills on time can help improve a credit score.
Fun Fact – VantageScore® only needs 1 month of financial history to calculate a score.
Age and type of credit – This factor includes the length of a consumer's credit history and types of credit accounts. As noted above, varying accounts over time may help to improve a score.
Percentage of Credit limit used – This factor analyzes the portion of amount owed and/or used on credit accounts. Generally, keeping revolving credit account balances under 30% may assist in credit score improvement.
Total Debt and Balances – This metric is used to analyze recently reported account balances, both current and delinquent. Reducing the amount of debt owed can help to improve this  factor.
Recent Credit Behavior – While a less influential factor of overall credit score determination, this factor assesses the number of recently opened credit accounts and/or credit inquiries.
Fun Fact: VantageScore® and FICO® both take into consideration something called "deduplication" , meaning consumers are less likely to be penalized for multiple inquiries in a short time period. [6]
Available Credit – This factor is the assessment of a consumer's total available credit.
To see more factors that may contribute to VantageScore® determinations, download a complete infographic here.
What are some differences between VantageScore® and FICO®?
FICO® is currently more widely used, but VantageScore's® usage is growing [7].
To see how FICO®FICO® and VantageScore® may view your credit differently, check out this infographic from Experian below.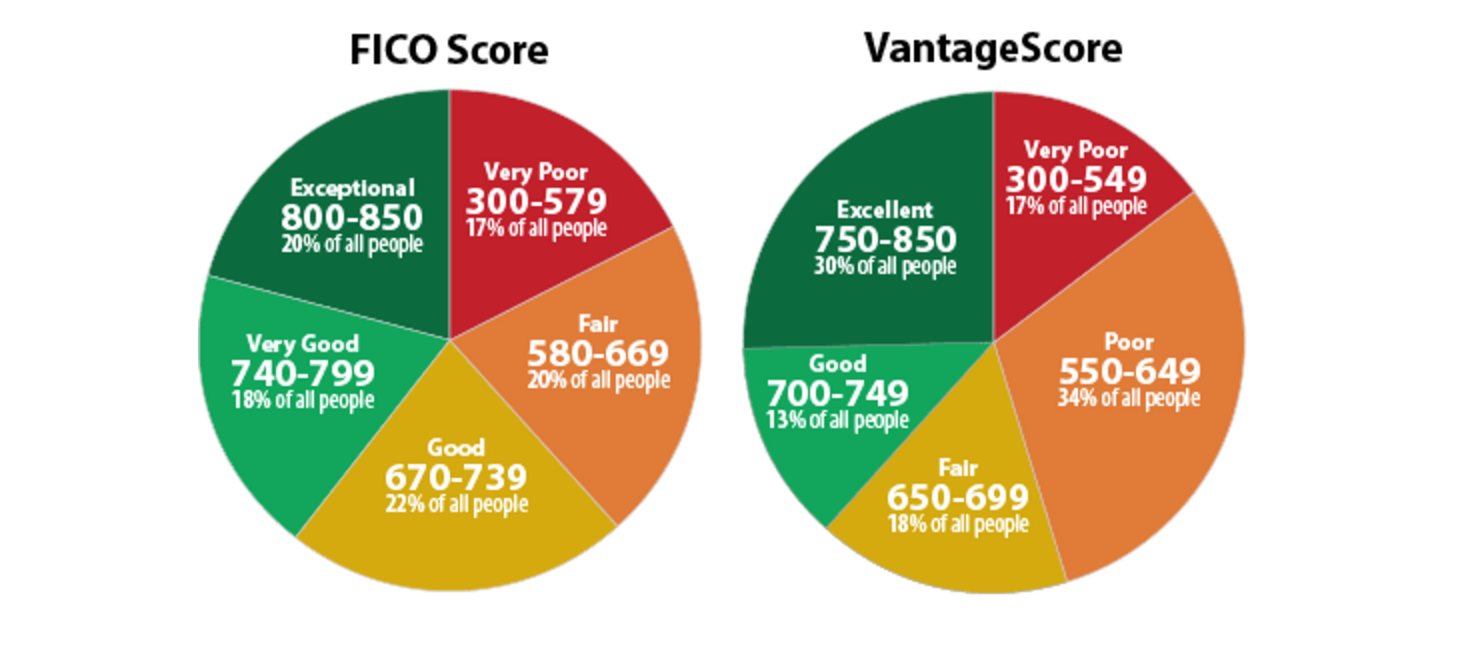 Image credit: Experian
Concerned with your credit score? Thinking about applying for a personal loan? Apply now for an online personal loan. It only takes a few minutes.
*Mariner Finance, LLC ("Mariner") provides access to your VantageScore ® credit score, (which is provided by VantageScore Solutions, LLC) only for your educational, personal, and non-commercial use.  VantageScore ® is used by some institutions to evaluate creditworthiness and to make information more uniform between the three main credit bureaus so that consumers have a clearer understanding of their credit health. Your VantageScore® credit score is calculated by a model (as may be updated from time to time) that predicts credit risk and is just one of many credit scoring models available. Please note that your VantageScore® credit score is provided for informational purposes only and is not used by Mariner.  Mariner has no responsibility for the content provided in connection with your VantageScore® credit score and cannot act on your behalf to dispute the accuracy of any information that appears in your credit report, other than information reported by Mariner.
In determining a consumer's creditworthiness and eligibility for a personal loan, Mariner uses the consumer's FICO®® score, rather than the VantageScore ®, as well as other types of information in making credit decisions.
Mariner reserves the right to amend, cancel, change, discontinue, or suspend the availability of the VantageScore ® credit scores and/or your access to it, in whole or in part, at any time in our discretion with or without notice to you, and any such action shall be effective as of the time Mariner so determines.
Mariner is not a credit repair organization as defined under federal or state law, including the Credit Repair Organizations Act. Mariner does not provide "credit repair" services or advice or assistance regarding rebuilding or improving your credit history or credit score, or monitoring for specific events that may impact your credit information.
Under the Fair Credit Reporting Act, you have the right to receive a free credit report from each of the three national consumer reporting agencies (Experian Information Solutions, Inc., Equifax Inc., and TransUnion) once during any twelve-month period.  To do so or for more information, visit AnnualCreditReport.com or call 877-322-8228.
VantageScore® is a registered trademark of VantageScore Solutions, LLC.
[1] https://en.wikipedia.org/wiki/VantageScore
[2] https://your.vantagescore.com/why-we-exist
[3] https://www.myfico.com/Credit-Education/Questions/why-are-my-credit-scores-different-for-3-credit-bureaus
[4] https://www.vantagescore.com/meet-vantagescore
[5] https://www.vantagescore.com/pdf/VantageScore_3_0_infographic_3_11_13.pdf
[6] https://www.credit.com/blog/experian-credit-score-vs-fico/
[7] https://www.experian.com/blogs/ask-experian/the-difference-between-vantage-scores-and-fico-scores/
The information provided in this article does not constitute financial advice and is provided for educational purposes only without any express or implied warranty of any kind. This article is not intended as legal, tax, investment, or any other advice, and Mariner Finance does not offer credit repair services. Consider talking with an appropriate qualified professional for specific advice.   
Blog posts are for informational purposes only.