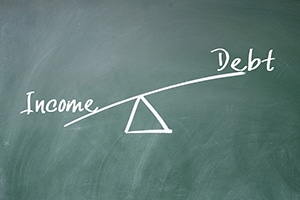 Debt-to-income ratio (DTI)
What is debt-to-income ratio and why is it important? These are all great questions and in this article we will do our best to answer them. Your debt-to-income ratio, also known as DTI, is a measure of how much debt you have compared to your income.  "Your DTI is one way lenders measure your ability to manage the payments you make every month to repay the money you have borrowed." according to www.consumerfinance.gov."  To calculate your debt-to-income ratio, you divide your total recurring monthly debt by your gross monthly income.
There are two types of debt-to-income ratios – front-end & back-end:
Front-end DTI – This compares how much of your gross income goes toward your housing costs.
Back-end DTI – This compares how much of your gross income goes toward all your monthly payments. This includes rent or mortgage, auto loans, credit cards, student loans and any other type of debt.
Does your debt-to-income ratio affect you credit scores?
Since your income isn't on your credit report, debt-to-income ratio will never affect your credit score.  However, consumers with a higher debt-to-income ratio are more likely to have higher credit utilization ratios which may affect your credit. This is the ratio of your total revolving debt, such as your credit cards vs. the amount of credit you have available.
Why is your debt-to-income ratio important?
Studies have shown people with a higher debt-to-income ratio are more likely to default or run into trouble making monthly payments. Experian explains "If you have a low DTI, meaning you make much more than you owe, you might be better able to repay a new loan. However, if you already have a lot of debt, taking out additional credit might make it difficult for you to meet your financial obligations."  All in all, your debt-to-income ratio is a factor in helping lenders decide how much money they may loan you, the interest they may charge and the terms they're willing to extend.
What's a good debt-to-income ratio?
Some loan products like qualified mortgages require mortgage lenders to make sure consumers have the ability to repay by having a debt-to-income ratio of 43% or lower.  However, different lenders and loan products have different debt-to-income ratio requirements.  A front-end ratio of 28% or below is usually pretty good, while a back-end debt-to-income ratio of under 36% is even better.
How to improve your debt-to-income ratio?
Improving your debt-to-income ratio may help improve your chances of getting and/or being approved for a better loan.  There are a few steps you can follow below to lower your debt-to-income ratio including:
Try and pay down your debt. Decrease your total debt by making your loan payments and credit card payments, while paying extra on them to lower your balance faster.
Don't create new debt/know when to stop incurring additional debt. It's important to keep your debt to a minimum when trying to improve your debt-to-income ratio. Avoid making larger purchases or taking on new loans. Taking up new loans can sometimes increase your debt-to-income ratio and even hurt your credit score.
Try to increase your income. If you increase the amount of money you bring in on a monthly basis, without increasing your expenses, you will improve your debt-to-income ratio.
Make a budget/manage your personal finances better. Create a budget to calculate your debt and manage your spending habits. Be sure to include all your expenses, no matter the size, so you can set spending limits and put extra funds toward paying off debts.
Make your debt more affordable. Look for opportunities to make your debt more manageable. If you have many high-interest credit cards you may want to consider debt consolidation or transferring all your high interest debt to a low interest card.
Blog posts are for informational purposes only.
†We offer personal loans from $1,000 to $25,000, with loans terms from 12 to 60 months. Minimum and maximum amounts dependent on an applicant's state of residence and the underwriting of the loan. Loans between $1,500 and $15,000 may be funded online. Loans greater than $15,000 or less than $1,500 are funded through our branch network. Specific interest rates and fees are determined as permitted under applicable state law and depend upon loan amount, term, and the applicant's ability to meet our credit criteria, including, but not limited to, credit history, income, debt payment obligations, and other factors such as availability of collateral. Not all rates and loan amounts are available in all states. Additional fees may apply to some loan offers; some state required and/or permitted fees may be treated as prepaid finance charges. Any such charges shall be in addition to the loan amount requested and/or approved and shall be fully disclosed to the applicant on his/her loan agreement. Not all applicants will qualify for the lowest rates or larger loan amounts, which may require a first lien on a motor vehicle not more than ten years old titled in the applicant's name with valid insurance. Our loan by phone and online closing process requires a compatible mobile or computer device on which you can access your email and electronic documents. Not all loan types are eligible for loan by phone or online loan closing.
To help the government fight the funding of terrorism and money laundering activities, Federal law requires all financial institutions to obtain, verify, and record information that identifies each person who opens an account. As a result, under our customer identification program, we must ask for your name, street address, mailing address, date of birth, and other information that will allow us to identify you. We may also ask to see your driver's license or other identifying documents.
*The process uses a "soft" credit inquiry to determine whether a loan offer is available, which does not impact your credit score. If you continue with the application process online and accept a loan offer, or are referred to a branch and continue your application there, we will pull your credit report and credit score again using a "hard" credit inquiry. This "hard" credit inquiry may impact your credit score.