With cooler weather around the corner, fall is the perfect time to perform a routine maintenance check on your home. To help you prepare your home for winter, we created a home maintenance checklist to make the process easy. Follow this list to get your home winterized in no-time!
Home Maintenance, The Exterior of Your Home:
Roof


Your roof is a powerful protector from winter's harsh elements, which makes it extremely important to inspect in the fall. Inspect your roof from ground level by using binoculars. Check for curling, cracking, and/or missing shingles.  If your roof appears to be in poor condition, replace any damaged shingles or consider calling a licensed roofer to repair or replace your roof.
Windows and doors
Your windows and doors bring warm sunlight into your home, but in the winter they can also bring in cold drafts of air. Inspect the wood around your doors and windows for potential rotting by gently pushing the wood with a screwdriver. If you find any, replace the rotten wood and consider new windows and doors that may be more energy efficient.
Exterior walls and shutters
Your exterior walls and shutters say a lot about the way you maintain your home. Check the exterior of your home, shutters, and trim work for chipping paint.  If your house is in need of a good paint job, fall, with its cooler temperatures and lower humidity, is one of the best times to paint.
Gutters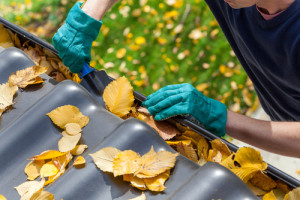 Your gutters play a pivotal role in the maintenance of both your roof and siding. Gutters clogged with leaves and other debris force water onto the roof and siding, and facilitate the deterioration of these products.  Inspect your gutters to make sure they are clear of debris.  If you see excessive debris, consider installing gutter guards to keep the gutters clear.
Yard
Survey the trees on your property to see if any limbs look dead or if they are too close to the house. If they are, then remove them.  If you see trees (especially those close to your house) that look sick or damaged, call a professional to inspect them. If left untreated, the tree could possibly fall into the house, which makes it extremely important to locate and treat ahead of time.
Home Maintenance, The Interior of Your Home:
Attic
Your attic insulation is extremely important, especially in the winter when temperatures drop. Similar to how you lose heat from your head when you don't wear a hat, your house loses precious heat through the attic when it's not properly insulated.  Prevent poor insulation by inspecting it for wet or damp spots.  If it is wet or damp, this may be a sign of a leaky roof.
Furnace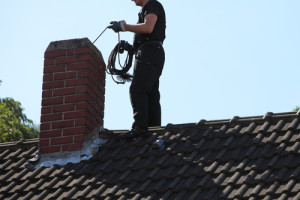 Having your furnace checked by a qualified HVAC technician will help keep your home warmer and safer.  A qualified inspector will be able to make sure your unit is working as efficiently as possible. The inspector will also be able to check for deadly carbon-monoxide leakage. If carbon monoxide is leaking, they will be able to remediate the situation before it becomes a problem chimney.
Your chimney can keep you warm, but it can also lead to problems if it's not properly maintained. It's important to get your chimney cleaned and inspected by a reliable chimney sweep. According to the Chimney Safety Institute of America (CSIA), clean chimneys don't catch fire. Keeping your chimney clean will make it more efficient as well as safe to use.
Garage
It's important to inspect your garage door to make sure it's operating properly. Some doors, especially older models with metal rollers, hinges, and tracks, may need to be oiled.  In addition, check the weather stripping around the doors and clean any debris from the bottom of the doors.
When prepping your house for winter, don't hesitate to call a professional for assistance when performing maintenance checks or if you run into an issue you cannot fix yourself. Lack of funds causing you to put off necessary repairs to your home? Don't worry. We might be able to help!
The information provided in this article does not constitute financial advice and is provided for educational purposes only without any express or implied warranty of any kind. This article is not intended as legal, tax, investment, or any other advice, and Mariner Finance does not offer credit repair services. Consider talking with an appropriate qualified professional for specific advice.   
Blog posts are for informational purposes only.