SpringFour
Mariner Finance has partnered with SpringFour, a free online tool that helps consumers locate verified and vetted food, financial, and health resources in their community. SpringFour currently offers information on thousands of social services as well as government and community-based organizations that aim to provide assistance in a wide variety of areas such as employment, utility expenses, food, and prescription drugs and includes certain COVID-19 resources as well. Just enter your zip code and the SpringFour tool will provide instant, personalized results. Click on the "Get Started" button below to see what resources are available to you.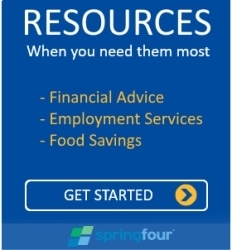 Why should you take advantage of our partnership with SpringFour?
In 2019, SpringFour provided over 1 million referrals to local resources and financial health solutions to help consumers get back on track financially.
It may help you reduce your household expenses. A typical customer who receives SpringFour resources reduces their expenses by $250 a month.*
It may help you save time by finding you accessible resources you can trust. SpringFour has 14,000+ resources in 475 cities and growing with statewide resources in all 50 states and major metro areas.**
For more information, visit our resources page.

*Reduction of expenses by as much as $250 per month based on survey responses provided to SpringFour. Your individual results may vary.
**Information and statistics provided by SpringFour.
The information provided in this article does not constitute financial advice and is provided for educational purposes only without any express or implied warranty of any kind. This article is not intended as legal, tax, investment, or any other advice, and Mariner Finance does not offer credit repair services. Consider talking with an appropriate qualified professional for specific advice. Blog posts are for informational purposes only.